What's next after Fairy Tail after 63 volumes and 60 million copies sold worldwide. After leaving the Kingdom Fiore and Magnolia City, the home of the Fairy Tail guild, it is now time for a new adventure for Hiro Mashima.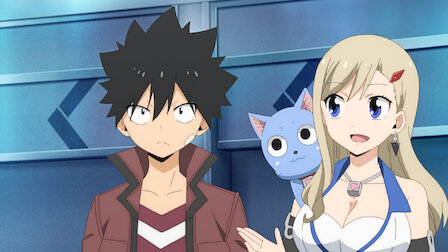 What's Next
That next is Edens Zero. A tale of heroes, Shiki, Rebecca, and Happy, not the same happy from Fairy Tail, set out to traverse the Sakura Cosmos in search of adventure and the being of great power and beauty, Mother.
Shiki, a young boy with a mysterious unknown background is the only human on Granbell, a world of robots. One fateful day, visitors comes to Granbell, Rebecca and Happy. After an incident that drove Shiki away from his home, he traveled along with Rebecca and Happy to find the ultimate being in the universe, Mother.
With the first volume selling a little over 30,000 copies and the subsequent volumes selling over 40,000 and 31,000 respectively, an anime was sure to be serialized. On June 12, 2020, Hiro Mashima announced the Edens Zero would be adapted into an anime. Edens Zero will be produced by J.C. Staff with Yushi Suzuki directing. Netflix acquired the streaming rights to the anime which set its global premiere to August 26, 2021.
As mentioned before, Edens Zero is not Hiro Mashima's first series. His most notable works are Rave Master, which ran from July 19, 1999 to September 9, 2005, and Fairy Tail, which ran from August 2, 2006 to July 26, 2017.
Hiro Mashima has used references and cameos from his previous works in his current works many times. In the Fairy Tail manga, Volume 39, and anime as an OVA, a crossover event brought Rave Master into the world of Fairy Tail. A prominent character from Rave Master becomes a recurring character in Fairy Tail, Plue.
Plue even makes his appearance in Edens Zero as a waiter in a restaurant on the planet Blue Garden.
You do not have to look far or watch too long before you see a reference from either Rave Master or Fairy Tail. It is a nice nod from Mashima to the fans of either or both series.
Edens Zero follows themes of friendship, and family, similarly to Fairy tail but it may not stay similar. Hiro Mashima revealed that, "At the moment, we're continuing the themes from Fairy Tail such as friendship, family and battles, but the theme may change a little by the end." He went on to clarify that the themes may change with the revelation in the mystery of Mother.
Check out Edens Zero on Netflix, and if you want to continue into the world of Edens Zero, then you can get the manga at many online places.
_______________
I do not own the rights to any of the photos.
Thanks for reading.