New to anime, but don't know where to even begin?
So, firstly anime is more of a medium that contains many genres of shows. An anime can be anything from comedy to horror, action to romance, and even fan-service to psychological. And many anime blend genres together to create fascinating shows with fascinating characters.
The story within the anime can be from a simple plot with fascinating characters or a intricate plot that captivates the viewer by the shows storytelling.
When introducing someone or being interested yourself in anime, picking the right genre and the right show could be a great introduction into a new fandom, or completely be appalled and disgusted by anime to the point of never watching anime again.
Whether you're a child finding out about anime or an adult just getting into this anime fandom, it can be a slippery slope with what anime is out there. For example, you may not want a young child to watch a show like Rin: Daughters of Mnemosyne.
Due to the graphic, almost pornographic scenes in this show, this would not really be a great show to be introduced into the fandom of anime.
The first impression really sticks with you and can definitely ruin anime as a whole if someone is exposed to an intense show like Rin: daughters of Mnemosyne.
Though, not a bad show at all with a great story, great characters and development. and with great story progression.
So say someone likes comedy, a show like Baka and Test would be a good fit.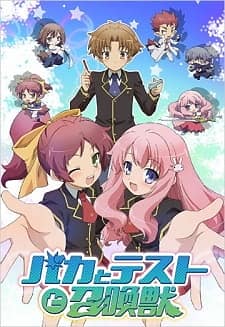 Baka and Test is ridiculously hilarious anime that follows Class-F as they study to get better grades for a better school life, but also deal with teenage drama and romances with their fellow classmates.
This show has a video game vibe to it as the characters use avatars to do battle with other classmates in order to get better school equipment for a better and easier school experience.
Or, if that doesn't sound interesting, how about a rather newer comedic show show like Kuma Kuma Kuma Bear.
This show centers more on comedy and slice of life.
For any who may not know, slice of life is an anime that encompasses a story similar to ordinary life. Slice of life can also be more than just a single genre. It can encompass many other genres like comedy, romance, or even inspirational.
Sometimes I do feel like I'm a failure. Like there's no hope for me. But even so, I'm not gonna give up. Ever!

-Izuku Midoriya, My Hero Academia.
For beginners into the anime world, slice of life can be great introductions without and gratuitous scenes or plots. More times than not, slice of life anime are heart-warming stories that follows each character in their ups and downs of life.
The viewer can usually find themselves drawn into the story but more so drawn to the characters within the anime. Seeing their lives unfold in front of the viewer and watching as the characters face their problems, can become an emotional and thrilling experience.
Also, there are anime that whether you are an adult or child and you love music, then idol anime would be a great introduction. Idol consists of a group of girls or boys joining together to sing and entertain.
AKB0048 is based on the official idol group of the same name. Of course, the show is fictionalized but the characters are based on the idol group.
Idol anime are mostly geared towards the music and visual effects associated with the group. But, that does not mean that an idol anime is just about singing and dancing. Idol anime can and do have story driven plots that develop each character throughout the show.
Anime is by no means a singular genre or singular art style. It is a diverse and creative form of entertainment that has diverse and creative meaning for those that enjoy anime.
In the end, it is all about individual taste. If you like the more risque or adult oriented themes, then you may not enjoy some of the cute and colorful anime. In my opinion, experiment and discover the many types of anime out there. You never know what show you may like until you hit that play button.
_____________________
Thanks for reading.